TRI-STAR 50 Trimaran Design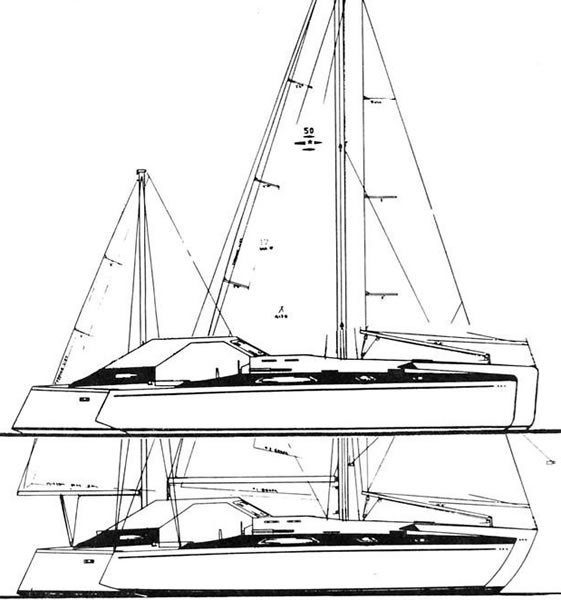 | | | | |
| --- | --- | --- | --- |
| LOA | 50 ft | SAIL AREA | 1435 sq.ft. |
| BEAM | 26ft 8 in | DRAFT MAIN HULL | 33 in. |
| DRAFT DAGGER BOARDS | 4 ft 8 in | DISPLACEMENT | 20000 lbs |
TRI-STAR 50's spacious main salon is just one of the many enjoyable features that makes living aboard her truly enjoyable. The main salon gives you spaciousness and comfort in a fully enclosed deckhouse that has a panoramic view. The main salon will provide a relaxing environment for dockside dining or just lounging.
The interior of TRI-STAR 50 has been laid out to give those living aboard the spaciousness required for enjoyment. Starting at the bow, there is a large forward compartment that may have many optional layouts and should meet any requirements desired by the skipper. The galley and living area are also spacious and arranged with all the comforts for enjoyable living. Like on all TRISTAR flush deck designs, one can enter the ama's from the living area without the need for going outside and entering through the private ama entrance. The aft compartment was designed and laid out for the owner that enjoys having all his own cc'mforts in spacious privacy.
TRI-STAR 50, a sister ship to TRI-STAR 49, has all the same great sailing and seaworthy features that all TRI-STAR's have exhibited and proven with their many miles of ocean cruising. TRI-STAR 50 is a fast and seaworthy Trimaran, she is spacious because of her unitized construction and flush deck design. TRI-STAR 50, a Trimaran that anyone can sail around the world in comfort and enjoy as the designer has the pleasure and freedom of marine living.
Gallery
Click on images to enlarge
Pricing
TRI-STAR 50 Study Plans $40.00 Add To Cart

TRI-STAR 50 Plans $1350.00 Add To Cart